History
Since its inception 23 years ago …
as an umbrella organization uniting the many diverse media voices of greater Los Angeles,
Freewaves has pioneered every new development in the field.  Beginning with its successful
efforts to bridge the 1990s divide between mostly small, culturally based media arts centers,
Freewaves has established itself as one of the most respected and adventuresome advocates
for raising media arts to a truly democratic vector for ideas and images.
Freewaves' activities have consistently been in the vanguard of the field, models for others to emulate.  Specific areas in which it led the way include:
Producing eleven festivals celebrating the newest technological, social and aesthetic developments
Placing experimental media arts in public spaces, reaching hundred of thousand of people who may never have seen art in this genre
Positing live internet links as an art form
Positioning interactive media (CD-Roms) as predecessor to web interactivity
Placing experimental media arts on cable, PBS and public access television
Presenting large format, video display of experimental media arts on Jumbotrons previously dedicated almost exclusively to paid advertising
Engaging international, web-implemented curation of its festivals, using the latest web technology to stream hundred of hours of video worldwide
Offering workshops bringing new media technologies to underserved communities and to working artists seeking new avenues of expression
2010 :: Video on the Loose :: Freewaves 20th Anniversary Celebration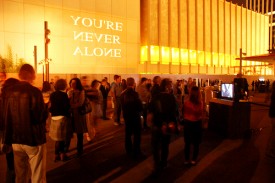 Freewaves celebrating their 20th anniversary at LACMA Late Night Art Event. The event animated the museum's north piazza with 20+ experimental media art works produced over the last two decades. The videos presented span perspectives from the identity politics of the 1990s to post-9/11 reality checks, from deep inside the mass media landscape to observations from media makers in Africa, Asia and Latin America.
:: OXY Freewaves ::
A night of global experimental and documentary films paired works by Occidental College students with 10 works by international artists from Freewaves in a customized campus setting outdoors.
2009 :: Freewaves turns 20!
In a move designed to enhance viewership of media art, Freewaves' web site is being completely redesigned with a new architecture and interactive interface including an expanded video archive showcasing 400 works from past festivals. The site will also present a web version of Freewaves' 20th anniversary publication, Freewaves Video on the Loose and Twenty Years of Media Arts, with essays, interviews, and an accompanying program of emblematic video work from the past twenty years of Freewaves festivals.
:: Statues Unfrozen for One Hour :: Clothed Women and Unarmed Men
Shown at Rooftop of eighteen-thirty on Sunset Blvd in Echo Park, Los Angeles; and at the Moscow Film Festival. This two-channel screening featured 18 short videos about actions in public space by artists from USA, India, Kazakhstan, France and Dubai.
:: Hotbed :: Video Cultivation Beside the Getty Garden
Projected in onto the exterior walls in the Getty Center Courtyards, 20 artists' videos from 1984 to 2007 explore the theme of the body as nature or culture. Spectacularly displayed between the architecture and gardens, viewers stroll the grounds from the tram to the cactus garden in this special 2-evening installation curated by Anne Bray, Director of Freewaves with an essay by Holly Willis.
2008 :: Hollywould :: Freewaves 11th Festival of New Media Art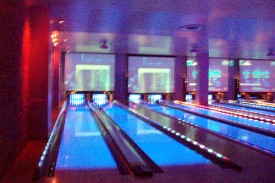 Freewaves transformed the stores, sidewalks and art centers of Hollywood Boulevard, with its clashing of new temples to commercial filmdom, tourist Meccas, homeless hangouts, vestigial soft-porn emporia and optimistic gentrification into a six block long screening room for one of the world's most ambitiously pluralistic media arts festivals.
2007 :: Funrazor ::
Freewaves curated a live immersive video event featuring wall-to-wall video, live video mixing, installations and helium.  This benefit for the 2008 Hollywould Festival featured  DJ Paul V., Kristinasky, DJ Coolwhip, Mexican Dubwiser, Louisahhh!!!, Franki Chan + VIP Guests from Check Yo' Ponytail, DJ Clutch, Gina Turner
VJs:  Animal Charm, Digital Vic, Eye Pscience, Jim Ellis, Mekanix, Michael Allen, Momo the Monster, Mr. Tamale, Phi Pheno, Salty Robot, Shikaku, VJ Fader VJ Fill
Activities in 2007 laid the foundation for a new era in Freewaves, both as a major distributor and promoter of media arts and as an increasingly self-supporting organization. Tying its aesthetics to a new income source, Freewaves is using its expertise to provide media arts veejaying and projection services to for-profit and non-profit organizations.
2006 :: Too Much Freedom? :: Freewaves 10th Festival of New Media Art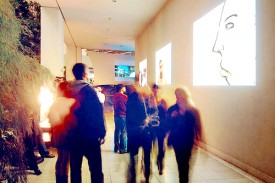 The most international festival to date, took place at the Hammer Museum, Pomona College Museum of Art, The National Center for the Preservation of Democracy, LACE (Los Angeles Contemporary Exhibitions) and KCET-TV. Approximately 100 works of new media art were exhibited, plus 150 online.
Pressures of branding and global programming pushed Freewaves to drop the "LA"
2005
LA Freewaves, launches online archive, with approximately 25 videos from all continents, curated thematically in a play list format, with attached artist video interviews and supporting materials, all available at www.freewaves.org. Another 100 artists' videos are available in an alphabetically sorted menu, sans video interviews.  To support this archive and move into a wider distribution mode, extensive use was made of existing online marketing methods, resulting in an increase from 5,000 to 10,000 daily visitors to the site.
A matrix of live presentations, television and Internet featuring over 150 artists, many from Los Angeles. The festival took place in four downtown venues (MOCA, REDCAT, Chinatown and Strategic Actions for a Just Economy), over four November weekends, integrating American artists with those from around the world. How Can You Resist? also appeared on LA City Channel 36, video-streamed on the Internet and showed on three video billboards.
Freewaves produced 2 one-hour videos as pilot programs, projected as a 13-part TV season exploring the depth and diversity of new media arts, and its relevance for contemporary viewers.
2004 :: How Can You Resist :: Freewaves 9th Festival of New Media Art
With more than 150 works of video, film and digital media addressing the question How Can You Resist?, LA Freewaves hopes to engage the public's growing skepticism about commercial media and create a consensus for change beyond the outcome of the 2004 presidential election. With this in mind, we have expanded our reach to include artists from Latin America, Southeast Asia, Africa, China and the Middle East.
Resistance has many incarnations in this year's festival. Some of the works take us on an intimate journey through addiction, sexuality, and suffering; while others challenge us to consider such politically-charged issues as security, paranoia, and moral culpability in a time of war.
Unlike previous Freewaves festivals, all of this year's events will be concentrated in downtown Los Angeles. We hope that by drawing attention to the local debate surrounding downtown's transformation, Freewaves can help people recognize the interconnectedness of struggles taking place throughout the world.
2003
Freewaves took first steps towards creating an alternative art channel to bring contemporary arts to new audiences. Sample programs were generated to ascertain the interest of commercial media, free TV, educational TV and diverse audiences internationally. Freewaves used cable TV in Los Angeles and Pasadena and streaming video as test sites to reach audiences well beyond the strictures of museums and galleries.
2002 :: TV or Not TV :: Freewaves 8th Festival of New Media Art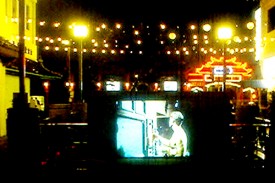 Celebration of New Experimental Media Art, held in venues throughout Los Angeles, was its most South American festival to date.
It featured: 365 artists from 20 countries in 70 exhibitions and screenings; 3 thematic programs of experimental short works on KCET public television; 3 documentary long works on LA Channel 36, a municipal channel citywide; 6 hours of South and Central American Video Art at The Museum of Contemporary Art, Iturralde Gallery and on Pasadena's Channel 56 public access TV; artists' works on 3 video billboards on Sunset Strip for 6 months & Wilshire Blvd. for 6 months; 5 panel discussions with 25 speakers in the fields of media and media arts to address the possibility of creating a culture TV channel; 2 digital programs shown at a museum, a school and 2 cyber cafés.
Each of the five November weekends included a special event with video projections, live music, performers, or receptions at untraditional sites.
2001
LA Freewaves distributed, at no cost, three half hour videos about the media arts in Los Angeles, including interviews with and excerpts from works by prominent, LA based media artists.  A curriculum guide made the tapes valuable resources for high school and college art students, libraries, art museums, media centers, and the general public. Materials were distributed free to all LA public libraries and city high schools. The documentaries, produced by Michael Cho, broadcast on LA Channel 36 and cable.
2000 :: Air Raids :: Freewaves 7th Festival of New Media Art
65 events at 35 locations: thematically curated exhibitions and screenings, multimedia installations, video bus tour, video billboards, programs on public television, online exhibitions and artists' CD-Roms at MOCA, publicity for 15 related events at other organizations, and panel discussions.
1999
In partnership with On Ramp and Visual Communications, LA Freewaves launched the Open Studio/LA, a series of free workshops on internet and web design, an on-line residency for LA artists and arts organizations and a lecture series  with critiques by web artists and designers.
1998 :: All Over The Map :: Freewaves 6th Festival of New Media Art
Included video screenings, installations, performances, CD ROM and website exhibitions as well as 6 video bus tours. The festival featured works by over 200 artists from all over the world.
LA Freewaves also conducted a series of 25 free workshops on Intro to the Internet and Web Design, targeted to videomakers, visual artists, writers and musicians.
1997 – 1989
Select Freewaves programs were screened on KCET, Deep Dish TV, Free Speech TV, 90s Channel, Moscow TV and public access in San Diego and the Bay Area.
1997
8 video programs were distributed free to 74 LA libraries and 40 LAUSD High Schools, along with curriculum guides developed with high schoolteachers.
1996
LA Freewaves launched its website www.freewaves.org, and produced a CD ROM (900 copies distributed).
:: Private TV, Public Living Rooms :: LA Freewaves' 5th Festival of New Media Art
Launched in August with 15 installations by LA artists; videotapes, CD ROMs, and websites by 140 artists at MOCA's Geffen Contemporary. Programs traveled to 15 art centers and 32 cable stations.
:: Live N.U.D.E. Artists ::
Launched in April 9 artists' CD ROMs event to expose the industry to media arts at Inscape.
1995 :: Digi Days ::
Digi Days was a weekend of low-cost workshops, panels, lectures and demos on digital video and interactive media held at AFI.
LA Freewaves distributed 8 video programs to 66 L.A. libraries and 40 LAUSD high schools for free.
Artist and Activist CD ROMs was another weekend workshop and demo held at USC that focused on the production and distribution of artists' CD ROMs.
1994 :: TV at Large :: Freewaves 4th Festival of New Media Art
Launched in September, and included a video projection and live performance event at the John Anson Ford Amphitheater, 5 shows at the AFI Video Festival, and 5 programs broadcasted on cable TV.  A media resource guide was published along with the festival schedule. The festival curatorial committee was formalized.
LA Freewaves got its non-profit (501 c 3) status, and received its first foundation grants.
1993 :: Three Strikes :: The Justice System
LA Freewaves produced this Catalog of Southern California Youth Media Programs with video included, with support from the Rockefeller Foundation and VIDKIDCO.
:: Hands On The Verdict :: The 1992 L.A. Uprising
LA Freewaves distributed the video program by Liz Canner and Julia Meltzer.
1992 :: Freewaves 3rd Festival of New Media Art ::
Launched in September with 75 programs and 425 artists. 8 cable programs were broadcast on 29 cable stations. The festival was curated by 60 independent and affiliated curators.  A live-video-installation-performance event, October Surprise, was held at California Plaza.  LA Freewaves coalesced broad-based response to the L.A. Uprising through this festival.
1991 :: Freewaves 2nd Festival of New Media Art ::
Launched in March, it was a larger festival in terms of artists and participation. It convened 100 arts organizations, cable stations, media centers and schools. 44 thematic programs and 150 tapes from high school and college makers were exhibited. LA Freewaves created the first L.A. media access guide.
1989 :: Freewaves 1st Festival of New Media Art ::
Launched in October at the AFI National Video Festival, with the participation of 35 Los Angeles media and arts organizations. During the three-week festival, unique events were mounted at 30 sites, while four thematic programs, called "Road Shows", traveled throughout the city.