Essay

We are

here

,
We could be everywhere
Freewaves and the Use Value of Video History 
by Kenneth Rogers
Kenneth Rogers is Assistant Professor of Cinema and Media Studies, Department of Film, York University. His interdisciplinary research and publication is concerned with the intersection of labor, attention, political economy, art practice, and digital media. His current book project, The Attention Complex: Media Technology and Biopolitics (forthcoming Palgrave Macmillan 2012).
_______________________________________________________________________________________
There is an urban legend circulating about early video art that I have heard on more than one occasion but the veracity of which I have never been able to confirm or disprove. I no longer recall who first told this to me or exactly when, and I have never taken it upon myself to research the matter with any seriousness, knowing its verification would only diminish the story's value. I've heard a few slightly different variations of it over the years, but the gist of the story is more or less the following: A prominent art collector forked over a hefty sum to purchase the first half- inch videotape used by Nam June Paik in 1965 for recording with his first-generation Portapak. Back in the early days of video, it was not uncommon to re-record over a single tape, so nobody, including the artist himself, had any record or idea of what was actually on it, and its content remained an utter mystery.
Given the already short lifespan of early half-inch videotape, this one was in unusually bad shape. Having been designated a working tape, played and recorded over many times (and later stored improperly in hot and humid conditions), the tape was far too degraded and fragile for playback. It could only be run through a machine and viewed one final time and it would disintegrate as soon as it was viewed. This left the collector with a dilemma: play the tape once and retrieve and re-record the content in an archival copy, or preserve the tape as an object but consign the sounds and images imprinted on it to the ash heap of forgotten history. The collector had to choose between two competing ways of understanding the videotape's value: its status as a unique yet unknowable object, or its free accessibility and circulation as content. The choice was also between the object's exchange value and its use value. To use the tape, to put its content into circulation, would only diminish its exchange value; increasing its exchange value could only be achieved by foreclosing upon its use value.
As the legend stands, the tape has not yet been played. It still sits on a shelf somewhere collecting dust, valued for the mere fact that it exists, or perhaps awaiting the arrival of some new technology that will enable us to have our cake and eat it too. As a parable, however, I think the collector's dilemma is an apt description of the predicament faced by all of us, but in particular that of the video historian and video artist. If we assert that video's immediacy is precisely what justifies its careful archivalization we are already caught in the trap set by the diametric opposition of competing systems of value.
What the collector's dilemma ultimately reveals is that there is a specter that haunts the history of video, a residual belief that impedes us from cultivating an alternative approach to history based on social practice rather than archival preservation. That specter is the construct of medium specificity, the enduring impression that video actually exists and the commonsense knowledge that we know what we mean when we refer to it: that there is a set of structures and qualities that its name designates. Deriving primarily from the disciplinary imperatives of art history, medium specificity maintains the uniqueness of video as an intrinsically autonomous object, irrefutably differentiated from all other media by a set of distinct material, technological, and experiential (perceptual, psychological, and phenomenological) properties. First and foremost among these is the condition of immediacy, or so it was framed by the first generation of videographers. For the initial wave of critics and curators, theorists and practitioners, video's unique form of temporality based on liveness, simultaneity, and feedback was categorically essential to the medium.1 What was first bracketed as a technological condition, however, very rapidly became the basis for various forms of social and political practice. And the material understanding of video as a medium without a latent image (no intermediary delay between image production and image reception), became decoupled from the internal philosophical and phenomenological investigations of the artist's studio and found itself grounding artistic participation in direct social action within the public sphere.2 Video pioneers such as Keith Sonnier, Steina and Woody Vasulka, Stephen Beck, Nam June Paik, Joan Jonas, and Bruce Nauman fiddled with Portapaks, invented synthesizers and video processers and constructed closed-circuit installations, projections, and live televisual feeds. Their experimental attitude found its parallel political expression in the video activism of groups and collectives such as Global Village, DCTV, Video Free America, the Bay Area Video Coalition, and Videofreex.
More than any other term, the transference of the rhetoric of immediacy from the technological to the social and political has been advanced through the meme of feedback. Speaking in strictly technological terms, the phenomenon of feedback is the recycling of the output of a machine or system back into the input; however, concurrent with video's appearance in the late 1960s and early 1970s, the idea of technological feedback systems began to cut laterally across scientific, cybernetic, psychological, anthropological, sociological, and aesthetic fields of inquiry. This ecological expansion helped video's technological property of electronic immediacy correlate to the less tangible realm of immediacy in social practice; video readily found its place in political struggles and social movements, and took on other radically alternative, countercultural dispositions toward dominant culture. For the diverse and dispersed video communities of this initial period, the portable video camera became an iconic tool of empowerment not only because of the democratization of the tool for visual representation, but also because of its speed—because it could act rapidly and effectively to counteract entrenched systems of power in the form of direct social feedback. Other factors contributed to this politicization of early video to be sure: its portability, its relative affordability, its ease of use, and its limitless reproducibility all played their parts. None of these factors, however, were viewed as having the same efficacy as feedback, nor were they so vitally identified with the medium's intrinsic nature. As a tactic, the immediacy of video feedback was granted a rhetorical primacy as the essential means through which the technological could reshape social discourse; video had an unsurpassed capacity to deliver nimble, targeted strikes against the corporate despotism of television, and to engage in guerilla countermeasures against all forms of cultural hegemony. Naturally, this was consonant with the volatile political climate of the times, riddled with protest, antiestablishment sentiment, spontaneous organization, and countercultural uprising both globally and domestically. Alternative video culture in the United States arose alongside groups like the Black Panther Party and the Weathermen; movements such as second-wave feminism, the Civil Rights Movement, and the Vietnam War protests; and traumatic flashpoint events such as the Watts Riots (1965), the Democratic National Convention (1968), the Stonewall Riots (1969), the Days of Rage (1969), and the Kent State shootings (1970). The fact that ubiquitous unrest, violence, and activism were pervasive during the period of video's ascension fed into the perception that to grab a video camera was a form of taking up arms among those who urgently felt that something had to be done.
This technological/social overlap had the additional effect of returning political legitimacy to video experimentation within the studio art context, from which some of the earliest arguments about medium specificity based on feedback had originally sprung. Video's important participation in the late-1960s paradigm shift away from the modernist "white cube" was partially founded on the idea that liveness and technological feedback circuits would activate a new experience of space and site as well as new affective, embodied, and participatory modes of spectatorship and subjectivity. Refuting the detached, pensive, and disembodied modernist spectator, the video viewer as active agent was predicated on the notion that an encounter with a reconfigured technological apparatus was already a political act that produced a new type of visceral, critical consciousness of media's constitution within formations of power. Without this primary migration of feedback systems from the technological to the social field, producing in turn a social aesthetics within the art gallery, a device like the Portapak might have solely appeared as yet another version of the painter's canvas or as a way for amateur users to make home video or low budget entertainment.
Because this familiar narrative of early video has been fully absorbed into the history of art for nearly two decades, to revisit it inevitably raises the question of whether the early emphasis on medium specificity in video has been overdetermined by larger art historical disciplinary paradigms. In truth, video's ambivalent proximity to the core of art historical master narratives is only part of the story; there is another approach to understanding the early tendency toward medium specific essentialism that still needs to be developed in more explicit terms. A moment ago I discussed how early experimentation with video feedback moved from a technological property of immediacy to a new political modality based on immediate response (feedback) in forms of social action; it follows that part of the recourse to medium specificity had less to do with a blatant acquiescence to modernist obfuscation about art autonomy, objecthood, auto-critiques, or self-reflexivity, and was more part of a strategy of social mobilization and the formation of community. The power of medium specificity, seen in this way, is basically utilitarian essentialism—a strategic adoption of a philosophical position taken up for political ends. It was an available means of mobilizing a collection of communities, all with diverse interests and projects, to feel a sense of flexible cohesion around the basic technological functionality of a new medium. Out of this, a shared sense of a video public could then arise to transmute this both real and imaginary functionality into cultural interventions, direct action, advocacy politics, social justice, and other objectives that were calling for structural reformations of the public sphere. Medium specificity was a temporary and limited, yet necessary, way of forming a sense of communality around the belief that video technology could produce an alternative space for rational discourse that would counteract the erosion of that sphere.
This emphasis on action in the public sphere helps explain why liveness, immediacy, and feedback were elevated as video's defining medium-specific properties. Part of what constitutes a public sphere is the possibility of open, rational discourse among its members, a discourse that, although it occurs within civil society, has the capacity to affect the official realm of government. For this to occur, that discursive space must be constructed with a very distinct sense of temporality that enables rational agents to inhabit that sphere by speaking to each other in a field that is temporally contiguous. This mode of address must occur within a duration that involves the punctuated indication of the various moments of articulation, circulation, and response; moments which can then be tied together for a sense of uniformity and timeliness. This is what Michael Warner explains as the aspect of punctual temporality that enables political action to emerge from discourse. Temporal punctuality builds in a structural element of reflexivity that binds the addressee of the discourse to a public sphere. Warner argues that the more rapid or frequent the intervals between discursive articulations, the more potential there is for the action of that public to affect politics. He is primarily speaking of historical print media, in which temporally indexed publications like newsletters and newspapers were the dominant medial form in which the public sphere could be realized. But the obvious pertinence of temporality in electronic media is also taken up in his formulation, and his description of television bears a striking resemblance to arguments about medium specificity:
The exception might seem to be televisual media, given the enormous significance they attribute to their liveness and "flow"–formally salient features of so much broadcasting, whereby televisual forms are understood to have a greater immediacy than codex or other text formats.
Although his description partially distinguishes television from print, Warner's position is the direct inversion of the medium-specific argument commonplace at the advent of video culture. Implicit in his argument is the idea that media do not determine the conditions for communication, but are ancillary technological manifestations of an already existing form of social interlocution. Ultimately, this would refute the naïve political assertion that media are enabling tools for human communication and expression.
But punctual temporality is just one of many criteria for the effective construction of a reflexive public sphere that can respond to the sphere of public authority. And although conditions of immediacy may express this promise, they can only benefit a public sphere that is horizontal and self-organizing. Various systems of political and economic obstruction have developed to cut off the potential for direct response from within civil society to the power of the state. For Jürgen Habermas, the decline of the horizontal self-determination of the bourgeois public sphere is a consequence of the increasing collusion between intensely capitalized, privately owned mass media and the state: a collusion in which their mutually interdependent interests monopolize media outlets and erode the capacity for self-organization and direct response. Leaving aside the debatable legitimacy of an unproblematic public sphere in the first place, it is not difficult to see why the history of television in the United States is paradigmatic of this kind of discursive monopolization. Since the late 1940s and early 1950s in the United States, the live televisual image and the ability to form community through immediate response to it, has remained solely the province of the three privately owned, national broadcast networks sanctioned by the Federal Communications Commission. When the Portapak arrived in 1965, a national public television system was still three years away, and direct access to this infrastructure from within the public sphere was an unlikely prospect in any event.4 During the 1960s, television began to overtake print media as the main source of news distribution and public communication. The medium-specific position, especially when progressively politicized, became a powerful and necessary step in mobilizing a heterogeneous and dispersed community of video practitioners around the idea that they were a counterpublic that could respond immediately with direct social feedback.5
First-Wave Video Historiography
It is unnecessary to state that the moment of video's auto-critique has long since passed, and the infinite receding feedback loop of musings about medium specificity has retreated into the university, serving as a depoliticized prop for art historical masturbation. Like a listless spectator squinting at a painting for too long from only one angle, finally tilting his head to get a fresh point of view, eventually the critical weight shifted from medium specificity to history. It is difficult to pinpoint exactly what changed or precisely when, but by the early 1980s there arose a palpable sense that a different framework for understanding video was in the air; it was a moment when alternative video practice awakened to a sense of its own history. The first wave of video historiography began piecemeal in publications such as High Performance and Afterimage with writings by Christine Tamblyn, Marita Sturkin, and Martha Geever. It continued with the expansion of exhibitions, collecting, and archiving at the Long Beach Museum of Art and Los Angeles Contemporary Exhibitions (LACE) and in distribution resources like Video Data Bank and Electronic Arts Intermix. These undertakings marked the first wave of historical reflection on video's heterogeneous beginnings. As these activities gained momentum in the 1980s, they fed the possibility of an alternative video history as a subject of serious scholarly research. The Resolution (1986) exhibition at LACE, accompanied by an important early constellation of critical/historical essays published in the exhibition catalog, and the publication of Illuminating Video: An Essential Guide to Video Art by the Bay Area Video Coalition in 1990, were defining indications that the medium-specific conversation had given way to an historical one. The question of what video is became infused with the question of what video was; and it helped develop the idea that there was something about the understanding of this medium that was yet to come—a sense that video could not be defined primarily as the medium of immediacy, but that perhaps it had a latent image after all.
The first wave of video historiography (ca. 1985–1990) is remarkably fraught with self- reflexivity, circumspection, ambivalence, and metacritical reflection. Although the potential for such sentiments regarding any historical object barely out of its infancy are understandable, the disproportionately irresolute history of video suggests that there is another factor at work, a complicating matter that lies beyond the superficial problem of insufficient historical distance. At stake is an instability regarding the formation of the historical object itself, in this case video. Repeatedly, these early efforts impart an incongruent mixture of urgency for a serious and legitimate history, and a self-critical hesitancy, at times reluctant, to bring that history forth. In the first comprehensive anthology of selected writings on video art, Illuminating Video (significant in that it offered a multifaceted historical reflection within the confines of a course- ready single volume), various reflexive complications intrude into a more fact-based and empirical form of history. The major historical essays of the anthology reveal the unique predicament of the video historian who was essentially setting out to write the history of an object that was still being formed and was conscious that her own historiographic account might be in danger of rendering the living aspects of the video movement ineffectual. Marita Sturkin describes these tenuous early attempts as approaching a state of paradox:
Video has been plagued by the notion of its own history. Attempts to define the medium have shadowed its growth from the very beginning. Bill Viola recalled: "In 1974, people were already talking about history, and had been for a few years. . . . 'Video may be the only art form ever to have a history before it had a history.' Video was being invented, and simultaneously so were its myths and culture heroes."
Sturkin's quote illustrates the degree to which the interchange between video practice and video history is expressed in temporal terms; an aspect of the paradox, it follows, is the problem of anachronism, an irresolvable disagreement in tense deep within the historical account. It might be said that video, the medium celebrated for its instantaneity and immediate feedback, has internalized this idea in its own sense of history, feeding forward from its historical present to address its yet unrealized future. In the same volume, Martha Rosler's well-known complication of the reductionist myths that circulate about video's origin, "Video, Shedding the Utopian Moment," suggests that video history has yet to be written, while simultaneously stands as a substantial early effort to write it.7 Rosler's argument anticipates and cautions against the transformation of an institutionally inassimilable heterogeneity into an exclusive and authoritative singularity. Today her essay has paradoxically become part of video's dominant master narrative—widely circulated within cultural institutions and cited in articles such as this one. These early histories grapple with the dilemma that in order for video art and culture to gain general acceptance within the museum and gallery system (i.e. to be subjects researched and taught within universities, to be treated with white glove guardianship by archivists, collectors, and institutions) it must conform to the categorical parlance of serious institutional speech acts consistent with the discipline of art history and the curatorial logics of the museum and gallery system. So although these essays issue strong words of caution against this model, they also contradictorily provide video history with an internalized version of its origin that aligns with notions of medium specificity, unique objecthood, individual creativity, formal morphologies, historicist chronologies, and positivist nineteenth-century research methodologies, while purportedly refuting them at the same time.8
And this is the dilemma. Call it what you will: co-optation, appropriation, reterritorialization of a line of flight—the danger has many names. The first generation of video historians could see that they were participants in a legitimizing apparatus that might actually delegitimize video in another sense, reducing its influence as a more broadly progressive, community-building force. When reading between the lines of the scattered early writings on video history, one can glean the competing desire for the establishment of a video canon with the felt need to resist canonization. At times one often finds video art bracketed off from the lineage of modernism, yet simultaneously positioned as an extension of it.9 At other moments, there is an apologetic reluctance to engage in the writing of the history of something so obviously in its infancy, and emphasis is placed on revising video's utopian myths. There is a stubborn refusal to integrate video's heterogeneous points of origin into a singular, purposeful movement, yet an urgent imperative that an authoritative history of video be written. Again and again, one can observe an animating contradiction at the heart of its history and an implicit sense that to write any history of video is to betray the ethic of the medium's immediacy and rootedness in practice.
But the process of institutionalization is inevitable; therefore we owe a great debt to the first wave of video historians for their foresight in addressing the issue head on. Critics like Sturkin and Rosler along with many others like Deirdre Boyle, Martha Geever, Lucinda Furlong, Chris Straayer, Patti Podesta, and David James put pressure on video's gradual subsumption into art historical master narratives. What could have become the fortification of a mythological monologue—maintaining the inflation of Paik and Viola as the fictional harbingers of the video revolution—was tempered by such scholars' anticipatory historical checks and balances. The more recent surge of video's historical scrutiny over the last decade or so, in its myriad written, curatorial, and archival forms, has been profoundly shaped by these early critics, and become more pliant, plural and open to revision and inclusion because of their efforts. It is due to their cautionary first steps that many of the complexities and heterogeneities of video's origin are taken into consideration. There are signs that a more nuanced and inclusive approach to video history is afoot: the belated recognition of the Long Beach Museum of Art and LACE as critical institutions to the foundation of Los Angeles video culture; the Getty Center's important commitment to archival preservation and their 2007 California Video: Artists and Histories exhibition and comprehensive catalog (which uses the word history in the plural10); the 2008 show at the Tate Modern on Film and Video art11; and the recent symposium, exhibition (Narrowcast), and forthcoming publication that together make Resolution 3: Video Praxis in Global Spaces (a project that is decidedly global in its focus, addressing broad questions of transcultural production with an emphasis on praxis). Projects like these, together with video's ubiquity (i.e. its embeddedness in new media platforms; critical importance to the articulation of identity politics; use in structuring forms of collectivity, distributed process, publics and counterpublics; and connection to relational aesthetics) are cumulatively applying pressure to art historical interpretation, disrupting master narratives and providing a more complex, diverse, and inclusive rendering of video histories.
But despite the considerable openness and plurality of a more progressive wave of video history, questions remain: Who and what are these histories for? What purposes do they serve? These are questions directed less at historical content, and more at the use value of history itself.
With a few minor exceptions, the answer to these questions is invariably the same: video history primarily serves the curatorial logics of the museum and gallery system by addressing a culturally elite art-going public. No matter how heterogeneous, diverse or inclusive, despite every laudable effort to explain video aesthetics as relational or distributed, and notwithstanding a return to its roots in counterpublic social praxis, video history is mired in the bog of historicism. The dimensions of video within its historical field have consistently been those of an autonomous object with an internal continuity that can be read against and subjected to the backdrop of diachronic historical forces. The dilemma of the collector's tape is really nothing more than a succinct expression of this prevalent internalized sensibility that permeates the entire field of video. In spite of the field's better intentions, the issue of medium specificity may have moved from center stage but it has not left the theater; the idea has merely been recast from its leading role as technologically deterministic to a supporting player as the implicit ground of history.
The problem coming into focus is how to expand and engage critically with the use value of video history. To do this, it is necessary to resist taking recourse in historicist presuppositions. The time has come to rigorously question the axiomatics of medium specificity still present in the term "video" as it is now embedded in the justification of its own history. So the questions are no longer the historicist ones: What is video and how has it changed over time? What have been its ongoing technological alterations, formats of recording and processing, modes of distribution, types of access, various cultural applications, political interventions, major figures, etc.? But rather: What if we presume that video does not exist, that it has no internal stability or viability as a self-evident object around which a history can cohere? How might we begin to account for all of the practices, cultures, communities, economies, projects, and events that have come to be oriented around this figment? In other words: What would the history of video be if video had never existed? How might we understand, write about, and practice such a history? A backward glance at Freewaves now, twenty years later, might help us answer these questions.
Freewaves: Mapping the Practice of History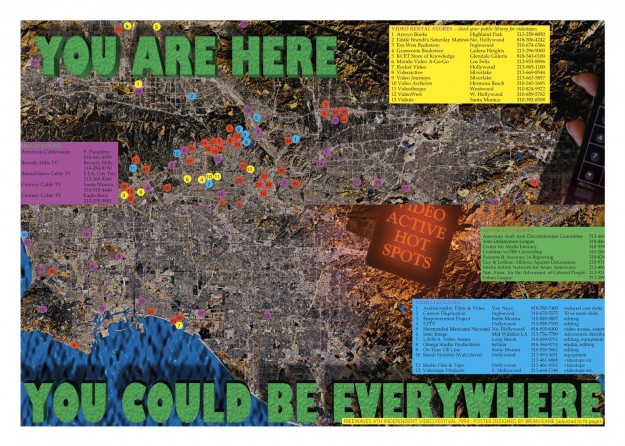 The mailer for Freewaves' fourth independent video festival (1994, pages 34-35) encapsulates the organization's twenty year history supporting alternative media and public programming in global Los Angeles. On the unfolded flier's front side, there is a panoramic view of Los Angeles at dusk. In the foreground, a hand grasps a remote control directed at a monstrous television set that rises out of the Los Angeles basin and towers above the Hollywood Hills. Like cartoon bug eyes, bold 3D words pop off the face of the screen to exclaim, "TV AT LARGE." The phrase presages the release of an almost supernatural force poised to overrun the city, a veritable colossus emerging from a sci-fi matinee. Although television is here figured as a menace that literally looms on the horizon, the visual allegory remains ambiguous. Is TV catastrophic or revolutionary? Does "at large" refer to scale or a fugitive criminality? Is the colossus the consolidation of corporate media power casting its uniform shadow across the city's lived diversity? Or alternatively, might it be a newly awakened giant, a counterpublic forged by collective solidarity among independent video-makers via decentralized channels of distribution and direct civic participation? And who, exactly, wields the remote control?
The flier does not offer any answers; like the design of Freewaves itself, it stands less as a deliberative polemic and more as an open provocation to introduce a specific set of terms, problems, and questions into the civic realm. This has always been the Freewaves method: open a space that activates community around a specific set of problems; use independent and public media channels to circulate alternative video production; provide the appropriate set of tools when necessary; organize; promote access, dialogue, participation, and negotiation, or even a call to direct action; see what it generates; and provide a curatorial eye on the content. Since Freewaves' first festival in 1989, this process has been steadfastly observed. Themes and tactics, however, have varied widely from year to year, as they tend to respond to the vagaries of history in the social, cultural, political, and economic context of Los Angeles, as well as incorporate new transitions in video technology. In the fall of 1994, that meant finding a way to reach dispersed Angelenos still coming to grips with the riots that had scarred the city two years earlier, while simultaneously addressing the complicity of mainstream media (broadcast, cable news, newspapers) in both the approach to and aftermath of the event. Freewaves' response was to promote media culture that swam against the powerful current of unprecedented consolidation during the Clinton era tech boom, during which conglomerates like Viacom, Ganette, and Turner Media culled independent and local media resources of all kinds through their relentless mergers and acquisitions programs. The festival used public events and alternative distribution channels to place heterogeneous cultural perspectives into direct contact with one another. TV at Large consisted of a single, large-scale video performance and screening at the Ford Amphitheatre that was followed by five curated one-hour programs that aired on nearly thirty cable access channels all over the city, from Beverly Hills to Compton to the San Fernando Valley. The collected programs addressed the vast inequities in wealth and social justice, communal resources, identity, race, labor, public education, and of course media access.
This festival typified what has made Freewaves indispensable to the exhibition and circulation of alternative forms of video culture. Throughout its twenty year history under the careful guidance of Executive Director Anne Bray, it has opened multiple channels of transmission and facilitated the expression of diverse subject positions, cultural groups, identities, and dissenting points of view, all of which have had virtually no representation by mainstream media channels monopolized by corporate interests. Freewaves also played an important role in sketching the indefinite contours of the Los Angeles video community, helping to give it the identity and cohesion it had historically lacked in comparison to other alternative video hubs like New York, Chicago, and San Francisco. Yet from the perspective of its twentieth anniversary, these same strategies and objectives present unique challenges to the organization. Freewaves' adaptive approach to achieving its mission, along with its relentless focus on the present—the here and now of its own practice—complicate an empirical or object-centered account of its history. Like any organization, Freewaves is comprised of persons and events, names and dates, texts, objects, ephemera, memories, and videos; these things are certainly not without value. However, because of the social nature of its practice, its tactical politics of direct engagement, and its pursuit of subjugated knowledges, anyone sketching a meaningful return to Freewaves is forced to strain this empirical history through the organization's own ethos and ask: What is the collection of these things for? How should they be put to use and by whom? What purpose does an institutional history serve and to whom is it addressed? These questions are familiar to what is increasingly understood as the fold of archival politics.12 If one frames Freewaves' history with these questions properly in mind, it is possible to understand its history from a perspective that has always been there but has only recently come into view.
The less obvious pathway to understand Freewaves' history—a way partially veiled yet utterly foundational—is to look at the latent image of the organization's relation to video. This image is only now coming into view and it is assuming a remarkable currency in our own historical moment. The image is literally imprinted on the backside of the TV at Large flier and it offers a different perspective on the maturing video culture of Los Angeles. Under the provocatively ambiguous slogan "You are here. You could be anywhere," the backside offers a straightforward map in the form of a large-scale satellite photograph of greater Los Angeles with collected streets compacted into a dense weave of slender grey filaments. Scattered across this aerial latticework of city streets there appear a hundred or so tiny numbered dots, color-coded in the primary hues of the NTSC color bars. Each color designates a different category of what the map names "video hot spots." A series of legends in corresponding colors that resemble the color bars themselves are strewn around the periphery of the map. Together, the color-coded dots and legends locate and list the contact information of the cumulative institutions, groups, and services that would be of interest and use to a video-maker living in mid-1990s Los Angeles. The categories include specialized and independent video rental houses, low budget video production and editing facilities, and a comprehensive list of media art resource programs including cultural institutions, screening spaces, cinematheques, public universities, galleries, museums, and community centers that support video education, exhibition, archives, publications, and workshops. The map legend encourages public access and direct response by mapping the local cable stations and public broadcast affiliates. Finally, it includes a list of organizations more peripheral to video production or distribution including advocacy groups such as Fairness and Accuracy in Reporting and the Gay and Lesbian Alliance Against Defamation.
When I first encountered the map, I paid it no more heed than the voluminous other programs, fliers, videos and ephemera produced over twenty vital years of video programming at Freewaves. But as I sorted and perused the stacks of material Anne Bray offered me from the Freewaves archive, I found myself drawn to this map again and again. I was ostensibly doing the work of an archival historian, looking through a collection of primary sources for broad themes and a central interpretive thesis that might define the institution and place it in its context, something that was already done skillfully and effectively by James Moran on the occasion of Freewaves' ten year anniversary.13 But the map struck me from an unexpected direction, complicating my original task of producing an expansive analysis condensed into a general institutional synopsis. There was something in the idea that after the event had come and gone, the flier was intended to have a lingering resonance for those who had been a part of the festival.
What repeatedly returned me to the flyer was its use value. I was fascinated by the fact that such a simple thing could have become such an invaluable resource for so many. What tremendous utility it would have provided for a neophyte video-maker seeking her community and the resources needed to finish a new work, or a video historian completing a research project. I could clearly imagine the map thumb-tacked to a classroom wall, an office cubicle, an online editing suite, or a bulletin board; I could see it folded up in the back pocket of a camcorder activist, or maybe used by a lecturer to facilitate a video art class. And though I risk coating this article in a candy shell of sentimentalism, I would suggest that I found in this simple resource something resembling the ethos of the organization's living history.
It would be easy to underestimate how prescient this map is, and not only because it bears an uncanny visual resemblance to locative media technologies like Mapquest, Google Maps and Google Earth more than a decade before their introduction. More important than its anticipation of technological innovation, however, is the map's function and whom it served. The map did not designate things in space, but visualized a social network. It laid out something that existed but that was not yet socially recognized, what Yochai Benkler would now call the empowering function of networks in the era of the "networked information economy."14 It was a call to action through the relational potentiality of diverse groups, resources, and interests that could be reordered under the sign of video practice. In other words, it recognized the emergent potential of something which already existed but had to be named and activated in order for it to become networked. The project was not simply referencing new communality, but also producing it; and beyond that, it called that community towards new kinds of co-labor and exchange. Although this gesture derived from the public-sphere politics of the 1960s and 1970s, it also moved beyond that model toward something more malleable and fluid. Today there are a number of fashionable terms applied to this kind of spontaneous organization: molecularity, rhizomatics, networks, multitudes. These terms and tactics do not refute the public sphere, but seek an alternative to it by finding an appropriate political response to increased and intensified biopolitical regimes and neoliberal globalization. By applying new tactical forms of politics based on factors of adjacency and multiplicity, maps and networks remain necessary counters that can exceed the limits of the pubic sphere without excluding it. Freewaves is one of the first video organizations to intertwine and code this fact into the very structure of its organizational DNA. Freewaves is less an organization than it is a network.
The map follows the activist logic of Freewaves itself. From a shift to the present indexical "you are here" it moves to the future modal verb "could be everywhere." It is thus a call to potential future action based on one's present condition. It situates the reader in a communal, lived relationship with the city and its diversity by putting him or her in the landscape of greater Los Angeles. "You are here," it suggests, "here in this map." Using the indexical referent, the map situates the user in an immediate relationship. Equally important, however, is what the map does not contain. While it suggests a stunning and imaginative collective resource, it also provides powerful visible evidence of the inequitable distribution of art and media resources across the city. Almost all of the hot spots are located in areas that abound with affluence and cultural capital, including the Hollywood hills, Santa Monica, the San Fernando Valley and a few other coastal areas. There is an appalling—but unsurprising—vacancy of video hot spots in south and east Los Angeles. This very simple critique lays bare the obstacles to producing a true sense of public based on equity. Resources meant for the use of all are clustered in areas of affluence and access; the map stands as both a caution and a provocation by representing whom these resources, many of them public, actually served.
Just as Freewaves has moved beyond the public sphere, the organization has similarly left behind the idea of video culture or video technology as its foundation. For Freewaves, video has always been only the pretext and the means toward building community. Within the map, video is deemphasized as a privileged, medium-specific form; instead it is embedded in the cultural landscape and adjacent to other terms, which are not strictly technological but utilitarian. Video is not synonymous with Freewaves. Video emerged as a central part of its practice to the extent that it had a specific use value that provided the connective tissue among disparate entities and experiences. But the medium was the centerpiece of the organization only in so far as it maintained that use value; Freewaves' commitment to the latter greatly outweighs its fidelity to a medium.
It is easier to give use value heuristic lip service than to realize it in practice. We all know that if anything can be universally said of histories it is that histories are never universal; they are always articulated from a specific time and place and reflect a set of interests and affordances aligned to a particular, often institutional, point of view. And yet even the most skeptical interpreter of history, fully intent on disarming its tendentiousness, will often abandon his or her reservations when faced with the tremendous institutional and pedagogical pressure to accept positivist disciplinary constructs like persons and events, names and dates, texts, objects, preserved ephemera, etc. After all, such things have a use value of their own. Who can deny that access to and facility with them cannot be directly converted into forms of institutional and cultural capital in projects like major museum and gallery retrospectives, archives, university courses, scholarly anthologies, and the identification of genealogy and provenance? But these conventions can sometimes make it appear as if the only relevant value of video history emerges from its preservation in the archive rather than in the open spaces of social practice as it is freshly applied to struggles and experiences in the living present. What needs to be retained in video history is not this technological, medium specific, object-based view prepped for the collector and the art historian, but a social and cultural one used to forge new networks and experiences of community. In its twenty years as a media art organization, Freewaves has persistently worked from this understanding. As the organization moves forward to face new challenges, it will no doubt continue to challenge us, prompting us to reorient ourselves within our existing maps and help us plot new ones where they are needed most.
Notes
1 In a recent article I discuss in more detail the centrality of the construct of immediacy in early video discourse. Kenneth Rogers, "From Media to Remediation: Transitions in Early Video Culture," in Mediated, ed. Lisa Tucker (Riverside, CA: UC, Riverside, 2009), 10–15. But feedback is also widely discussed as a central way the medium and its movements understood themselves. See: Lucas Hilderbrand and Kate Horsfield, eds., Feedback: The Video Data Bank Catalog of Video Art and Artist Interviews (Philadelphia: Temple University Press, 2006).
2 Modernist art theory maintains that film is an historical medium in that it divides the real from its representation and produces the necessary critical dichotomy for self-reflexive modernist autonomy. The event represented is always a past event, suspended invisibly on the celluloid's latent image only to be seen later, after a temporal delay, which facilitates critical reflection. Video transforms light into an electronic image immediately and therefore the image can achieve no temporal distance from the instant of its production to an instance of its reception. It is a medium defined by a collapse between the present of the event and its reception, which thereby diminishes the possibility for self-reflexivity. See Rosalind Krauss, "Video: the Aesthetics of Narcissism," in October no. 1 (Spring 1976), 50–64
3 Michael Warner, Publics and Counterpublics (Cambridge, MA: Zone, 2002).
4 On the shortcomings of public television see, Laurie Ouellette, Viewers Like You: How Pubic TV Failed the People (New York: Columbia University Press, 2002).
5 Were there space in this essay, it would be worthwhile to detail theories of the counterpublic sphere and other important critiques of Habermas coming from Nancy Fraser and others. Nancy Fraser, "Rethinking the Public Sphere – a Contribution to the Critique of Actually Existing Democracy," Habermas and the Public Sphere, ed. Craig Calhoun (Cambridge, MA: MIT Press, 1992), 109–41; Craig Calhoun, "Civil Society and the Public Sphere," in Public Culture 5, (Chicago: University of Chicago Press, 1993), 267–280; John Downey and Natalie Fenton, "New Media, Counter Publicity and the Public Sphere," in New Media Society 5 (New York: Sage, 2003), 185.
6 Marita Sturkin, "Paradox in the Evolution of an Art Form," in Illuminating Video: An Essential Guide to Video Art, ed. Doug Hall and Sally Jo Fifer (New York: Aperture/BAVC, 1990).
7 "But the consensus appears to be that there is a history of video to be written—and soon. I would like to consider the nature of such histories, and their possible significance for us. Historical accounts are intent on establishing the legitimacy of a claim to public history. Such a history would follow a pattern of a quasi-interpretive account of a broad trend activated by significant occurrences, which, on the one side, are brought about by powerful figures and, on the other side, determine or affect what follows. Video's history is not to be a social history but an art history." Martha Rosler, "Shedding the Utopian Moment," in Illuminating Video: An Essential Guide to Video Art (New York: Aperture, 1990).
8 "Some fear that if histories are written by others, important issues and events will be left out. Others realize the importance of a history in keeping money flowing in. The naturalization of video in mass culture puts the pressure on to produce a history of art video, or video art, that belongs in the art world and that was authored by people with definable styles and intentions, all recognizable in relation to the principles of construction of the other modern art histories." Ibid., 31.
9 "The difference between video and other art making mediums is that video has no history within modernism." Amy Taubin, "For Nam June: Notes on an Oversight," in Resolution: A Critique of Video Art, ed. Patti Podesta, (Los Angeles: LACE, 1986), 99–104.
10 Glenn Phillips, ed., California Video: Artists and Histories (Los Angeles: Getty Research Institute, 2007).
11 Stuart Comer, ed., Film and Video Art (London: Tate Publishing, 2009).
12 Jacques Derrida, Archive Fever: A Freudian Impression, Eric Prenowitz, trans. (Chicago: University of Chicago Press, 1995). Michel Foucault, The Archaeology of Knowledge (New York: Pantheon, 1972).
13 James Moran, "All Over the Map: A History of L.A. Freewaves," in The sons and daughters of Los: culture and community in L.A., ed. David James (Philadephia: Temple University Press, 2003).
14 Yochai Benkler, The Wealth of Networks: How social Production Transforms Markets and Freedom, (Yale University Press: New Haven, 2006).