FEEDBACK FEEDBACK
Exploding stereotypes…networking post-riot LA…transforming Hollywould…funneling art and ideas around the world
: Heidi Zeller

interviews

Anne Bray :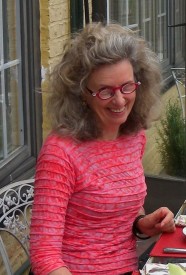 Anne Bray is a co-founder and Executive Director of Freewaves. She grew up in a large family and was trained to do social service in a Catholic setting. From 1978 and 1982, she lived in a commune, believed in collective processes, socialized with progressives and taught large classes. Also during that period she regularly collaborated with other artists, city officials and community members to present public art events in Boston. Bray had developed an aversion to mass media, which crystallized by that time from contrasting the detestable sound of TV, which had permeated her childhood home, with the stimulation of 8 years living away from television in college and Europe. Her political disagreements with the box, particularly mainstream news, were sharpened by work with her mentors, Aldo Tambellini and Antonio Muntadas, at MIT's Center for Advanced Visual Studies.
In 1982, Bray arrived in socially disconnected Los Angeles, where one's best friend is generally 15 to 60 minutes away, depending on the time of day and therefore the traffic, and where intimacy is experienced most frequently on the telephone or more recently on-line. In response, she divided her practice in two: producing individual public art projects and administering such projects as portions of the L.A. Street Scene Festival, the L.A. Festival, Suzanne Lacy's Dark Madonna and others, particularly, since 1989, LA Freewaves. That same year she began collaborating again, this time consistently with one artist, Molly Cleator. Four years of working at the artist space Los Angeles Contemporary Exhibitions (LACE) 1985-1989 taught Bray much about the media arts community and art administration. Her public art approach directly influenced her programming. The concerns of her own art projects, meanwhile, came to mandate the use of collective action.
---
On the occasion of Freewaves' 20th anniversary, Bray speaks with Heidi Zeller, an arts organizer and cultural planner.
Heidi Zeller: Freewaves has been organizing festivals for 20 years now – describe a moment in your history when you felt deeply that you had made a meaningful impact.
Anne Bray: I truly felt the value of independent screenings in 1989, when we showed Frances España's video program at Self Help Graphics in East LA. The lights dimmed, the screening began and you could hear a pin drop. The room was filled with 100 silent people as a crescendo gradually built toward the positivity of essentially seeing themselves on TV. There was a Q & A afterwards, and people wanted to keep the conversation going long into the night. I was so moved by the intensity in the room. It was the transformative power of seeing yourself, your people, your community reflected on the screen in this public setting from your point of view.
HZ: How did these intense responses to the screenings influence Freewaves' evolution?
AB: The festival has never been about showing diversity for the sake of diversity. It started by showing work made by a specific immigrant or marginalized community to that community, facilitating an internal conversation within a group that had something to express but didn't have a venue with an established audience. We saw an inherent value in groups making images of themselves to counter the images of them made by outsiders.
For example, we had a screening in a mostly Black neighborhood around Crenshaw, followed by an hour and a half long discussion led by O.Funmilayo Makarah and we were all left with the same feeling that this matters! There was clearly a need for a civic context where people could examine shared identities and circumstances. Freewaves had access to the video work and the communities to whom it was relevant. The work was (and still is) very different from what we see on TV, very oppositional. To some in the Black community, the cops are the criminals and Blacks are the victims, whereas mainstream TV is too often the other way around. So, many of the videos made by Black artists portrayed alternative identities and roles.
Until the 1992 riots, Freewaves festivals had promoted communities seeing themselves and neighbors in the TV mirror. After the riots happened, it became an urgent story -­ we had to learn to get along outside of our own groups.
HZ: How did Freewaves respond to the riots?
AB: Immediately after the riots, Al Nodal at the City of Los Angeles Cultural Affairs Department allocated mini grants to arts organizations, to generate artistic responses as an attempt to begin mending the deep social divisions in the city. Freewaves was a recipient and we saw this as an opportunity to explore how we could evolve into more than a straightforward video art festival, something with deeper relevance to the city. We put together two 1-hour programs that aired on all local cable stations, and organized a series of screenings and discussions on themes like racism and power.
What was so amazing is that people of all ethnic and racial backgrounds, ages and skill levels made their own media responses to the riots. People made work fast, we found the work fast, and we realized we had a network all over the city.
The news had covered the events in such a lopsided way that we were in shock. The TV stations interviewed people in the streets and many were swearing so the media wouldn't quote them. In many cases reporters literally didn't speak the language of potential interviewees. All of those voices were left out of the public narrative. TV news reporters were very distant from the situation, using the term "them" a lot. There was no "us" perspective in any of the coverage. So the media were essentially outsiders with their telephoto lenses zooming in on "them."
By contrast, Freewaves' programs presented work by Blacks, Asians, Latinos, Whites and Native Americans side by side, which offered new, personal insights into what had just happened. Screenings curated by Claire Aguilar, Julia Meltzer and Beverly Ginsburg and discussions took place at seven LA venues, in collaboration with 100+ organizations and public access TV stations (through Deep Dish TV), locally and nationally. By bringing together pluralistic audiences under each of these roofs we were getting closer to understanding others' perspectives.
One such perspective is a videomaker named Matt McDaniel, who produced "Media Killa," a series that regularly covered the TV news in LA. He'd shoot an event early in the day, then go home and aim his camera at the TV set showing how they reported it, particularly about how Black celebrities and South LA are covered. He shows the discrepancy between his eyewitness Black viewpoint and the stereotyped mass media perspective. In one installment, presented in the Meltzer/Ginsburg program, there's a scene showing a houseboat party. The media called it a riot when it was just people partying!
HZ: You mention that Freewaves was part of a network of media makers. Is this an intentional mode of organizing? Who is Freewaves' network and how has it changed over the past twenty years?
AB:Freewaves began as a network, and it grew out of my work at LACE, which in the 1980s was the center for free video workshops for people from all over the city. At the time LACE was located in an industrial, depopulated zone downtown, so it was ethnically neutral. As the video coordinator, I noticed how different videomakers who came to the workshops didn't know each other in this tiny field of video art.
Concurrently, the film centennial was taking shape and The Director's Guild was assembling film and video people to plan the celebration and coordinate events. It was meant as a unifying occasion, but the process got snagged on dissenting interpretations of film history. The video people branched off and created a project with less historical baggage and more forward momentum with funding from Michael Alexander at the city's Cultural Affairs department. That was the beginning of Freewaves.
There were about 40 of us who formed Freewaves, including representatives of Reach LA, Visual Communications, EZTV, In Visible Colors, the KAOS network, Gay & Lesbian Media Coalition, UCLA Film & TV Archive, KCET, ITVS, American Film Institute, SIGGRAPH, and Maconda Cultural Center. As mostly small media arts and advocacy nonprofits working to amplify the voices of a broader public throughout a decentralized and segregated city, we felt that we would have a more meaningful impact if we coordinated our activities through a periodic festival. So the film centennial became the impetus for an annual (and later a biennial) overview of independent and experimental media arts in LA.
HZ: How might Freewaves' network evolve as it moves forward?
AB: I'm excited that we're returning to more of a locally networked way of operating. At the same time that we've expanded from the local to the Californian to the American to the international scene, our ability to service the local community has diminished as we now get inundated with 2,000 entries in response to each open call. The next version of Freewaves will attempt to link a very local issue with international manifestations. Freewaves has the technology to show lots of video to many people through the web, but how do you connect in meaningful ways at both the local and international levels simultaneously? It's a challenge with a small budget.
HZ: Freewaves is always responding to what's happening aesthetically, politically and technically.  Each festival has taken up these convergences. What are you seeing now in terms of new technologies and potent ideas?
AB: I think mobile media is the next big technological change, and the integration of mammoth video screens into the environment. Tiny and large scale. The ubiquity of video is making our ability to find screening spots easier. However, with more and more people making videos, it's increasingly complicated to find the right works for the right location. Online collaboration is another really exciting part of technological development, as a place where we can make and share collective meaning on the issues people care about.
HZ: Can you describe Freewaves' recent forays into mobile media as part of the Hollywould festival?
AB: We hosted five walking tours with combinations of interdisciplinary guides – an artist, architecture critic, choreographer, urban designer, etc. – and participants used smart phones to interpret the neighborhood. Photography and short video tagged with text.  All the data people shot was uploaded instantly to a server, and we presented it back to them and a general audience on large flat screens at the Pig & Whistle pub so they could see what other people were shooting on their tours.
In another Hollywould project, Fabian Wagmister at UCLA REMAP led workshops with six different community groups in Hollywood and attendees got very excited making photographs and short videos tagged with their time and location, and learning how to make databases filled with the results. Afterwards, general audiences could come to LACE [on Hollywood Blvd.], and see a 3-d map interface of Hollywood showing the photos generated by all the groups.
Finally, we did an event at Lucky Strike bowling alley to display the images of the workshops and celebrate with all the community groups and general public coming together. In the context of the gentrifying neighborhood of Hollywood, we were creating a way to generate feedback to developers, the City and Chamber of Commerce. We were trying to find out, how do the residents and workers experience this neighborhood? What are their values? It's a very different perspective than the developers, City and Chamber.
HZ: Who were the six community groups?
The groups we chose are people who are in Hollywood daily, people who live and work here:  the action figures and movie star impersonators who perform at Hollywood and Highland; street cleaners (day and night time workers); gay and lesbian seniors who live in one apartment building; middle school students; a group of religious college students; and Hollywood Business Improvement District staff who are developing this neighborhood. So we had perspectives ranging from management to kids.
To inspire the groups and contrast with stereotypes of Hollywood, we shared Douglas McCulloh's photographs of Hollywood. He's an artist who spent two years documenting the area. His project is an in-depth visual analysis of the neighborhood and we wanted to present a perspective deconstructing both the glamour and anonymity of Hollywood as both a neighborhood and an industry. We assumed that people who live far away would not know the difference so we'd blur those definitions, then clarify, plus teach the industry what they could be showing!  The "would" part of Hollywould refers both to the gentrification process and the media industry's potential.
HZ: Other than the output of this work being archived on Freewaves' and REMAP'S website, is anything else being done with this material, these viewpoints by such a cross-section of people who investigated the neighborhood?
AB: We're seeking funding now to continue the workshops. In fact, two of the groups haven't stopped! The middle school students and seniors, both ends of the age spectrum. The people with time are still going!
HZ: What is Freewaves' approach to collaboration?
AB: I am a proponent of the idea of collaboration from the perspective of growing up in a big family, teaching to large classrooms of students and seeing how people learn nowadays in more of a collaborative style. I've worked with a lot of different artists, and as an individual artist myself, I've realized that getting a group to solve an issue is a better way of finding solutions. The way we are regenerating our website right now is through a meeting process. The collaborative method gets a group of people to consider perspectives different from their own, examining polarities and articulating what falls between the two. The results are more sophisticated if we work together across sectors. We are addressing different audiences – art, academic, social justice, government, technology – and this opens up each person's field of vision and possibilities.
By working with SAJE (Strategic Actions for a Just Economy) in 2004 for example, we got to hear about how globalization was playing out at the local level from U.S. and Mexican artists. Collaboration is also good practice being a member of a community, a kind of citizenship. Not making decisions alone is the experience that you are a member of this temporary community. This idea of  "What can we do right here right now?"
I also see that each person has dialogues in their own head, between their imaginary thoughts and real world practicalities. In a way, when working with a group I often feel like my imaginary side gets to find a practical solution. So something that I used to think wasn't doable, is doable. I'm expanding my range of possibilities. In general I feel like there is a lot of difficulty getting people to speak. We have a lot of corporate speak, especially in LA where we are inundated with advertising. People can't remember or even imagine that they can speak. In other places, like Speaker's Corner in London's Hyde Park, people get up and talk, but here you are a crazy person if you do that! I like that reminder of free speech. How can we get ideas out in the world? The challenges are vast. For instance, the political efforts to address global warming must compete with other issues for public attention, serious discussions are derailed by detractors or devolve into spectacles. In conventional media it's too expensive to buy airtime.
HZ: How does Freewaves attract and then engage thought processes in a meaningful way?
AB: What we're trying to do is break down stereotypes – how to do that?  People have regular thinking patterns so how do you open minds to new patterns? The word versus image method is really powerful.  Television synchronizes word and image so the characters are always saying exactly what they're doing in sync. A lot of artist projects show you one thing and say another thing. I call that parallel structure:  if it's too divergent, it's not comprehensible. If it's slightly divergent it opens up a space between word and image, and a viewer can create a connection between them. The divergent thoughts have to go between two nodes in your head so you're forging a new mental path, like going down a new street.  In each festival, we present a combination of documentary, narrative, art and animation around themes pertinent to right now. We discover the topicality through the open call: what are people making work about? The sub-themes come out through the curatorial process and inspire the placement in certain types of venues to help people understand their relevancy.
HZ: How have your collaborations been able to draw out all kinds of people for a project?
AB: On the practical level, one approach is to really watch and make sure that everyone speaks. So at the beginning of a meeting having everyone just say their names breaks the ice. And asking, "Who thinks the opposite of that?" to challenge the assumption that someone dominating a conversation always has the right answer. Having done a lot of teaching, I'm used to that process.
Another approach to involving the broader public in a project is taking advantage of the ubiquitous electronic applications invented to facilitate sharing. Freewaves meets audiences halfway by communicating in this vernacular technological language.
In the realm of theory there is this post-modern idea of the death of the author, or the fact that the individual is coming from a very collective place, that one's ideas are probably from someplace else. I think the collaborative process stimulates that awareness. Maybe you'll find out where your idea came from and remember that it isn't yours. New ideas mean that you haven't heard of them yet, and now you are thinking about them. That's a big change from staying home alone in your studio, and thinking you are the generator of all ideas.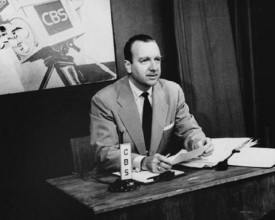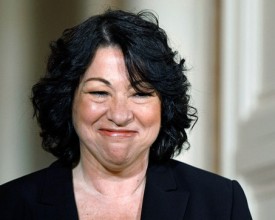 Another post-modern theory is the subjectivity of reality — which is now an assumed idea. When I was a kid, it wasn't. Walter Cronkite's view of the world was THE view of the world. Now politicians are arguing over how subjective or objective Sonia Sotomayor is. It's interesting to see people declare there is such a thing as objectivity.
HZ: The idea of distribution and just getting one's work out there has almost replaced the idea of authorship in terms of artistic priorities. Many artists seem content having their work distributed, reproduced, tweaked and sampled, rather than retaining sole authorship.
AB: I'm interested in how artists and arts organizations operate, and how this serves as a model for collaborative practices. Are we separate, self-involved individuals or are we communal beings? Are we willing to share those ideas with as many other people as possible? My view is that many of us are trying.
HZ: Are you still optimistic about getting broader distribution of video art?
AB: In this economy, funding for the arts is dramatically shrinking and many organizations will simply go away. On the other hand, during a recession there's greater emphasis on content, meaning, and the real desire to express yourself and work with an audience. With the broader bandwidth of the internet, experimental video is everywhere. The number of people making work is growing and the acceptance of the medium from museums is increasing. More art venues are adding video nights and programming. The public art world is adding video to the list of mediums that are acceptable, which is a big change. Non-art venues are also adding video – at malls, corporate headquarters, building lobbies, etc. Video art is going in many places it has not been before.
For instance, the biggest project I'm involved in is at LAX airport. In 2010, a new international terminal will open, along with new permanent video installations by multiple artists. They'll be shown suspended from the ceiling, 56 S-curving monitors back-to-back in the international terminal. Another installation will be presented nearby as a wall-mounted grid of 25 monitors. It's been thrilling to facilitate artists' access to really beautiful equipment and software.
Every day I get an email from someone asking "What if we added video here?"  A few years ago I wasn't getting emails like that.
HZ: Perhaps this is another convergence moment because the last time there was this much economic anxiety in Los Angeles, the riots erupted. Maybe there are other ways that tension can be released in a productive way…
AB: Around the time of the riots I attended a meeting to address an instance of censorship and Ben Caldwell from KAOS said "if we don't give people the chance to speak, they will find another way to express themselves." That's true. Like the insistence on democratic elections in Iran right now, and in parts of China, and of course what happened in Los Angeles shows that people need to speak. If they are not heard, there is trouble.
HZ: When there are so many websites with video – which is great because more people are getting comfortable with the medium, more mentally receptive, and computers are better equipped to display video in good quality – how does Freewaves distinguish itself? How might your purpose change now that there are so many online venues for presenting video and tools for producing and distributing?
AB: Our function has reversed itself, from helping people get access to independently produced, publicly spirited media art to the situation we have now – with so much access and outlets we're more important as a filter for high quality media work. We're funneling instead of proliferating. We're a site where you can find 500 videos on many different themes, and as an artist, curator, teacher, student, or general viewer, you can browse and find good experimental work. This will be the closest we've ever gotten to having our own TV channel. We're compressing the work so you'll be able to stream a large, good quality high-res version.
HZ: One trend on the web is the meet-up, people using the internet as a bridge from the virtual to the real world, like online dating but for group gatherings. Is that something you see Freewaves doing?
AB: That would be spectacular. The DIY house screening initiative we're kicking off is designed to encourage people to have screenings at their house, school, café, wherever, and stream work from our website and then post summaries of what they presented and what kinds of discussions transpired. I see that as a perfect way of creating a network of people with similar interests and curious minds.
HZ: This involves the Freewaves online archive, which you've been developing for a few years now. How this will work?
AB: There are about 500 videos by artists who have granted us permission to use a hi-res version of their work. All the videos were selected through our collaborative curatorial process. Viewers can approach the archive on two levels – searching for a specific work by artist name, title, date, country of origin, etc. or sifting a cloud of key words, browsing by theme. This is a common interface on websites these days. The design will encourage viewers to investigate what we've collected in the archive and craft a video playlist. To urge participation, Freewaves will make it as easy as possible to customize the screening to their audience and to their technical situation. We'll provide screening guides for this purpose. I'm really curious to see what kind of feedback we get.